STUDENTS – ALUMNI INTERACTION PROGRAM
DEPARTMENT OF COMPUTER SCIENCE & ENGINEERING
Name of the Alumni
Er. A. Healah Anveka, B.E. CSE (2010 – 2014 Batch), Technology Analyst,

Infosys Limited, Chennai.

Event Name
Guest Lecture on Current Technologies and Career Opportunities for Computer Engineers in I.T. Sector
Date
11.08.2018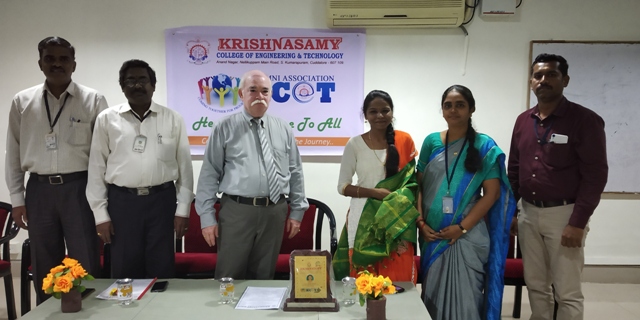 "Student – Alumni Interaction" was held by the department of CSE on 08th August 2018.
The program's aim was to share knowledge and build strong relationship between the students and alumni. Our prominent alumni Ms. Healah Anveka, Technology Analyst, Infosys Limited, Chennai interacted with CSE students. She motivated the students towards placement.
She guided the students regarding career opportunities in SAP ABAP domain. She advised students to learn technologies which have limited skilled people in IT. She also answered various queries of students. Towards the end of the session there was an interactive session, were students gained information about how to face an interview, what companies focus on and how to prepare themselves as a competent engineering graduate.